Descriptif du travail de recherche
Nos activités de recherche englobent le développement et l'optimisation des acides nucléiques thérapeutiques. Nous optimisons leurs formulations, leur délivrance et ciblage selon les voies d'administration. Il s'agit d'un domaine de recherche multidisciplinaire nécessitant différentes disciplines comme la chimie, la physico-chimie, la biologie moléculaire et cellulaire.
Concernant le transfert de gène, nous avons maintenant identifié plusieurs attributs pour concevoir un virus artificiel. Pour cela, la bio-ingénierie de l'ADN plasmidique est développée en couplant des signaux intracellulaires spécifiques en tant que transport cytosolique à médiation peptidique et des séquences d'ADN pour l'importation nucléaire. Nous explorons également l'approche de co-délivrance des siRNA, des anti-microARN et / ou des leurres d'ADN contre les oncogènes dans le mélanome et le cancer de sein triple négatif. Les leurres d'ADN sont basés sur de petits acides nucléiques bio-conçus pour le ciblage cellulaire et intracellulaire.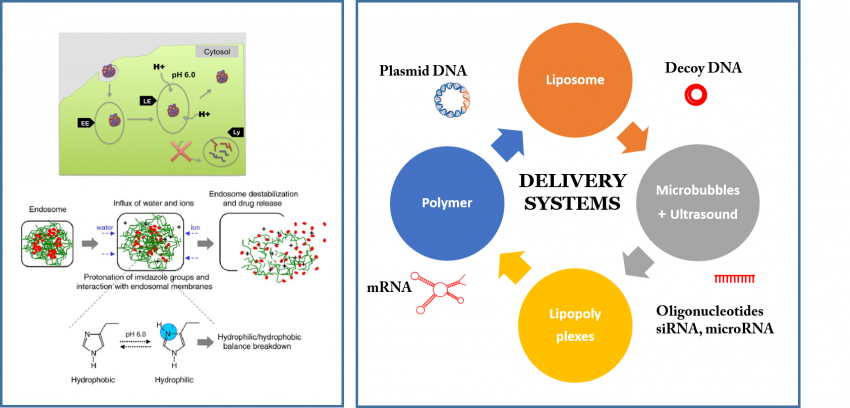 Notre expertise de longue date dans le transfert d'ADN plasmidique par des vecteurs synthétiques est exploitée pour optimiser la délivrance d'autres types d'acides nucléiques, tels que les oligonucléotides, les leurres d'ADN, les ARN interférants, les microARNs et les ARNms. Notre formulation originale appelée « Lipopolyplexe » est un nanoparticule hybride de liposomes et de polymère complexant l'ARNm (LPR). Celui-ci peut être pourvu de motif saccharidique comme le trimannose pour le ciblage des cellules dendritiques. Un LPR comprenant des ARNm codant pour des antigènes tumoraux s'est avéré être très efficace comme vaccin contre le cancer. Nous souhaitons renforcer cet axe en améliorant la livraison in vivo pour les essais précliniques et, espérons-le, les essais cliniques.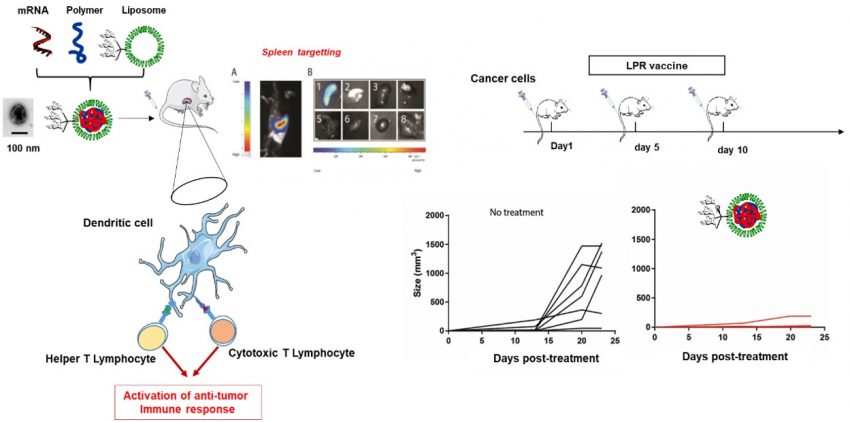 L'équipe travaille également sur la sonoporation basée sur les ultrasons (US) et les microbulles (MB) pour délivrer des acides nucléiques et des médicaments in vitro et in vivo. Nous avons réalisé une étude pionnière révélant la traduction intracellulaire de microbulles lors d'une administration efficace de médicaments par sonoporation, bien reconnue dans le domaine. Développements actuels du MB cationique original avec une taille plus petite et une grande capacité d'encapsulation. La principale application est la délivrance d'ADN plasmidique / ARNm pour restaurer l'expression de gènes mutés pour les maladies génétiques et le glioblastome. Ce projet est soutenu par C'valo, un dispositif  d'investissements en région Centre-Val de Loire soutenant le développement économique de son territoire en transformant les inventions des chercheurs académiques en innovation.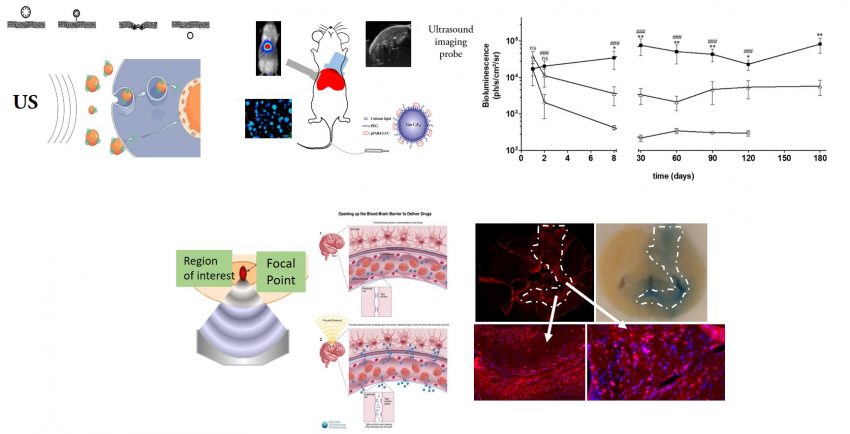 ARN thérapeutiques
Ces dernières années, les ARN messagers sont apparus comme de nouveaux biomédicaments. Aujourd'hui, les ARNm sont produits par transcription in vitro. Malgré l'optimisation de leur production, celle-ci reste coûteuse car elle nécessite de nombreux réactifs et étapes. La recherche d'une autre option permettant une production en grande échelle à bas coût pourrait être avantageuse pour le développement clinique. C'est le défi que nous avons relevé en concevant une usine de cellules à base de levure pour la production d'ARNm. Cet eucaryote unicellulaire, considéré comme sûr pour la bioproduction, est extrêmement utile dans le domaine de l'ARN car il possède un métabolisme de l'ARN transposable aux eucaryotes supérieurs. Une vaste gamme d'outils génétiques, de méthodes moléculaires et biochimiques sont disponibles pour les études sur les levures. Nous avons génétiquement modifié des cellules de levure pour produire à la demande de l'ARNm d'intérêt et pour les cibler dans un compartiment spécifique facile à purifier. Nous avons réussi à générer des mutants de levure transcriptionnels qui expriment de l'ARNm hétérologue mature et intact, ciblé et confiné à l'intérieur de rétrosomes. L'ARNm bio produit est coiffé, polyadénylé et présente des nucléosides modifiés. Il est également efficacement exprimé in cellulo et in vivo. À notre connaissance, cette étude est la première preuve de concept indiquant la faisabilité de la bioproduction d'ARNm. (Pigeon et al., PCT/EP 2018/025066)

Compétences / savoir-faire
Synthèse et chimie fine de l'ADN
Vectorisation d'acides nucléiques
Endocytose et trafic intracellulaire
Microscopie confocale
Cytométrie en flux
Transfection
Expérimentation animale
Imagerie fonctionnelle in vivo
Principales publications :
Van der Jeught K., De Koker S., Bialkowski L., Heirman C., Tjok Joe P., Perche F., Maenhout S., Bevers S., Broos K., Deswarte K., Malard V., Hammad H., Baril P., Benvegnu T., Jaffrès P.-A., Kooijmans S.A.A., Schiffelers R., Lienenklaus S., Midoux P., Pichon C.*, Breckpot K.*, Thielemans K.* (2018) Dendritic Cell Targeting. mRNA Lipopolyplexes Combine Strong Antitumor T-Cell Immunity with Improved Inflammatory safety. ACS Nano. 12 (10) 9815-9829. doi:10.1021/acsnano.8b00966 *Co-last author and $corresponding author (IF:13.7).
Manta S., Renault G., Delalande A., Couture O., Lagoutte I., Seguin J., Lager F., Houzé P., Midoux P., Bessodes M., Scherman D., Bureau M.-F., Marie C., Pichon C.*$, Mignet N.* (2017) Cationic microbubbles and antibiotic-free miniplasmid for sustained ultrasound-mediated transgene expression in liver. J Control Release. 262, 170-181. doi: 10.1016/j.jconrel.2017.07.015 *Co-last author and $corresponding author (IF:7.7).
Delalande A., Gosselin M.-P., Suwalski A., Guilmain W., Leduc C., Berchel M., Jaffrès P.-A., Baril P., Midoux P., Pichon C. (2015) Enhanced Achilles tendon healing by fibromodulin gene transfer. Nanomedicine. Nanotechnology biology and medicine. 11 (7) 1735-1744. doi: 10.1016/j.nano.2015.05.004 (IF: 7.78).
Pigeon L., Gonçalves C., Gosset D., Pichon C., Midoux P. (2013) An E3-14.7K Peptide that Promotes MicrotubulesMediated Transport of Plasmid DNA Increases Polyplexes Transfection Efficiency. Small. 9 (22) 3845-3851.  doi:10.1002/smll.201300217 (IF: 7.514).
Delalande A., Bouakaz A., Renault G., Tabareau F., Kotopoulis S., Midoux P., Arbeille B., Uzbekov R., Chakravarti S., Postema M., Pichon C. (2011) Ultrasound and microbubble-assisted gene delivery in Achilles tendons: Long lasting gene expression and restoration of fibromodulin KO phenotype. J Control Release. 156 (2) 223-230. doi:10.1016/j.jconrel.2011.08.020 (IF: 7.7).
Breuzard G., Tertil M., Goncalves C., Cheradame H., Geguan P., Pichon C.*, Midoux P.* (2008) Nuclear delivery of NFkappaB-assisted DNA/polymer complexes: plasmid DNA quantitation by confocal laser scanning microscopy and evidence of nuclear polyplexes by FRET imaging. Nucleic Acids Res. 36 (12) e71. doi:10.1093/nar/gkn287 (* co last authors) (IF6.8).
Publications (Archives Hal)
---
Communication dans un congrès
Direction d'ouvrage, Proceedings
Alain Bruhat, Cedric Chaveroux, Valerie Carraro, Celine Jousse, Julien Averous, et al.. Regulating the expression of therapeutic transgenes by controlled intake of dietary essential amino acids. European Society of Gene and Cell Therapy (ESCGT) Congress, Oct 2017, Berlin, Germany. 28 (12), Mary Ann Liebert, pp.A61-A61, 2017, Human Gene Therapy, ⟨10.1089/hum.2017.29055.abstracts⟩. ⟨hal-02786230⟩
Brevet
Jean-Marc Malinge, Patrick Midoux, Thomas Thibault, Chantal Pichon. In vitro production of DNA minicircles less than 250 base pairs. France, Patent n° : EP2735614A1. 2014. ⟨hal-02134791⟩
Pré-publication, Document de travail
Shubaash Anthiya, Audrey Griveau, Claire Loussouarn, Patrick Baril, Martin Garnett, et al.. MicroRNA-based therapeutics and nanomedicine for brain tumour treatment. 2019. ⟨inserm-02178906⟩
Thèse
Anthony Delalande. Méthodes de transfert de gènes non virales : application aux pathologies tendineuses. Sciences agricoles. Université d'Orléans, 2011. Français. ⟨NNT : 2011ORLE2076⟩. ⟨tel-01128057⟩
Federico Perche. Transfert d'ARNm par des lipopolyplexes et vaccination antimélanome : ciblage des cellules dendritiques à l'aide de lipopolyplexes mannosylés. Médecine humaine et pathologie. Université d'Orléans, 2010. Français. ⟨NNT : 2010ORLE2068⟩. ⟨tel-00665118⟩