Scientific works of Jean-Marc Bonmatin are at the interface of chemistry, biology and toxicology. His works mainly focus on:
1) Measurements of exposures to xenobiotic molecules (especially pesticides acting on the central nervous system),
2) Mechanisms of action of neuro-toxicants, and their effects on living systems.
Combination of these two approaches by using a new validated model of eco-toxicological risks, then allows him providing a fine risk assessment, this for both non-target invertebrates, and vertebrates.
Two main classes of insecticides have been extensively studied in the frame of European community research programs: neonicotinoids and phenylpyrazoles. By developing new analytical methods which are the most sensitive so far (LC/GC-MS-MS), JM Bonmatin and co-workers have demonstrated the contamination of pollen and nectar by these insecticides. They also shown that chronic exposure at very low doses induces a significant lethality and a set of sub-lethal effects, including effects on reproduction.
For a better understanding of these issues at the global level, JM Bonmatin has co-created an international expert group of independent researchers (22 countries): The Task Force on Systemic Pesticides (TFSP). The TFSP has published the first meta-analysis on this subject in 2015, with an update from 2017. The comprehensive meta-analysis revealed that systemic insecticides: a) contaminate significantly all compartments of the environment (soil, water, plants and air), and b) severely impact biodiversity (pollinators, terrestrial and aquatic invertebrates, and insectivorous vertebrates species).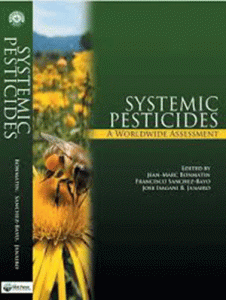 In this context, Jean-Marc Bonmatin is involved in risk assessment of emerging issues, as a member of national expert committees (follow the links: Ministry of agriculture, Institute of bees and pollination, Agency of food safety and environment), as well as for international bodies (follow the links: IUCN, IPBES, OECD, and vice-Chair of the TFSP).
Nowadays, JM Bonmatin extends his research interests in pesticide alternatives as well as for occupational-and public-health.
A few more at Washington Post, Cpac Canada, Euractiv,The Guardian, European Commission, E-today (CN), ASSAF, ZDF (DE), BeeLife, Time24, Nature.
Publications (Archives Hal)
---
Communication dans un congrès
Poster
Camille Pasquet, Jean-Marc Bonmatin, Cyril Colas, Guillaume Gabant, Gaëtan Glauser, et al.. Exposition humaine aux fongicides SDHIs par les denrées alimentaires. 50e congrès du Groupe Français des Pesticides, May 2022, Namur, Belgique. 2022. ⟨hal-03870671⟩
S. Sobanska, N. Dupuy, J.M. Bonmatin. Raman characterization of pollen pellets collected by honey bees. Euroanalysis 2015, Sep 2015, Bordeaux, France. ⟨hal-01263522⟩
Delphine Paradis, Géraldine Bérail, Jean-Marc Bonmatin, Xavier Hirardot, Benjamin Poirot, et al.. Development of extraction and analytical methods by GC-MS2 and LC-MS2 in honey for 3 pesticide families (nicotinoids, pyrethroids and pyrazoles). Annual Meeting of the Doctoral School in Biological and Health Sciences, Jun 2011, Marseille, France. 1 p., 2011. ⟨hal-02805718⟩
Ouvrage (y compris édition critique et traduction)
Martine Regert (Dir.). Abeilles : une histoire intime avec l'humanité. Le Cherche-Midi; CNRS, pp.159, 2019, 978-2-7491-6224-9. ⟨hal-02918606⟩
Jean-Marc Bonmatin, Francisco Sánchez-Bayo, B. Janairo, Jose Isagani. Systemic Pesticides: A Worldwide Assessment. Jean-Marc Bonmatin, Francisco SÁnchez-Bayo, Jose Isagani B. Janairo. De La Salle Universyt Publishing House, 2017, 978-9715556484. ⟨hal-02071583⟩
Chapitre d'ouvrage
Mehrnaz Katouzian-Safadi, Jean-Marc Bonmatin. Du Diagnostic Differential aux Therapies Prudentes : Le traité de la rougeole et de la variole de Râzi. Medicine and Healing in the Ancient Mediterranean World, D. Michaelides (Dir.),, Oxford & Philadelphia, Oxbow Books, pp.334-349, 2014. ⟨hal-01533047⟩
Jean-Marc Bonmatin, Patrice A. Marchand, Jean-François Cotte, Asmae Aajoud, Hervé Casabianca, et al.. Bees and systemic insecticides (imidacloprid, fipronil) in pollen: subnano-quantification by HPLC/MS/MS and GC/MS. A.A.M. Del Re; E. Capri; G. Fragoulis; M. Trevisan. Environmental Fate and Ecological Effects of Pesticides, pp.837-845, 2007. ⟨hal-00282377⟩
J.M. Bonmatin, I. Moineau, R. Charvet, M.E. Colin, C. Fléché, et al.. Behaviour of imidacloprid in fields. Toxicity for honey bees. E. Lichtfouse; J. Schwarzbauer; D. Robert. Environmental Chemistry. Green chemistry and pollutants in ecosystems, Springer, pp.483-494, 2005, 978-3-540-22860-8. ⟨10.1007/3-540-26531-7_44⟩. ⟨hal-00088509⟩
Pré-publication, Document de travail
Lorenzo Furlan, Alberto Pozzebon, Carlo Duso, Noa Simon-Delso, Francisco Sánchez-Bayo, et al.. 浸透性殺虫剤に関する世界的な統合評価書(WIA)の更新版 第 3 部 浸透性殺虫剤に関する世界的な統合評価書(WIA)の更新版 第 3 部:浸透性殺虫剤の代替手段. 2020. ⟨hal-01966114⟩